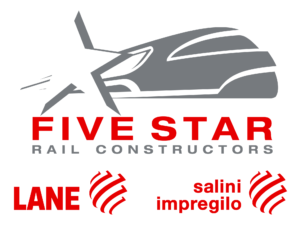 Subcontractor/Material Supplier Quotes Requested
Five Star Rail Constructors requests quotes from subcontractors and material suppliers for the following project: DART – Cotton Belt Regional Rail Design-Build Project – P2033270
Opportunities on this project consist of but are not limited to architectural finishes, asphalt, beams, brick pavers, cement stabilization, clearing and grubbing, concrete cutting and sawing, concrete flatwork and paving, deck panel/PMD, demolition, directional boring, drainage, drilled shafts, earthwork, elevators, erosion control, fencing, fire protection, guardrail, bridge/station turnkey, landscaping, lime stabilization, masonry, mechanical services, metal roofing, painting, pavement markings, pile driving, rebar, signage, subballast, traffic signals, trucking, underground utilities, utility relocations, walls, waterproofing, aggregates, decorative metals, redi-mix, project management, office/payroll management, survey.
Please contact our office at 817-632-3801 to be placed on our bidder's list. Plans and specs are available for viewing through ISqFT. Quotes are due to Kimberly Valente no later than 5:00 p.m. (CST) on Wednesday, February 28, 2018. Email: TexasBids@LaneConstruct.com Fax: (682) 499-8029.
Five Star Rail Constructors negotiates in good faith and will not reject firms as being unqualified without sound reasons based on a thorough investigation of their abilities. Five Star Rail Constructors will consider expedited payments for firms which demonstrate a financial need. Five Star Rail Constructors is willing to break out parts of this contract's work items into economically feasible units to facilitate subcontractor participation.
If you have questions or need information related to this project, call (817) 632-3801.
Five Star Rail Constructors is an Equal Opportunity Employer. Certified DBE, WBE, and MBE companies are strongly encouraged to respond.