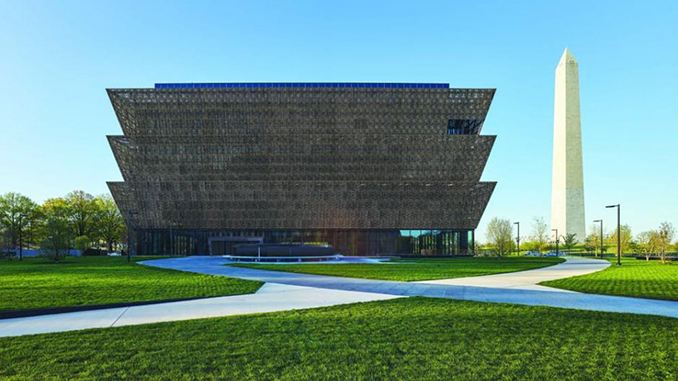 The Smithsonian Institution opens the National Museum of African American Culture and History this week on September 24. The museum will chronicle the history, experience, and progress of African Americans in America. The project represents the latest addition to the Smithsonian's roster of 19 national museums and will be the last museum to occupy the National Mall.
Despite the astounding amount of history and stories that will contained in the Museum, another piece of history is the significant participation of minority-owned design and construction firms in leadership roles on the project. In addition to substantial subcontracting goals for small, disadvantaged, HUB Zone, woman-owned, and veteran-owned firms; minority firms also took the lead in bringing the project to fruition. The project's architectural design was led by a minority-owned firm, construction management was performed by a minority-owned firm, and two minority firms were a part of the joint venture team selected to build the Museum.
The architectural team of Freelon Adjaye Bond/SmithGroup won the contract to design the Museum in 2009. The team was led by three leading African and African-American architects; Philip Freelon, David Adjaye, and J. Max Bond; and represents one of the most significant structures ever designed by African American architects.
The engineering firm of McKissack & McKissack, an outgrowth of the oldest African American engineering firm in the United States was selected by the Smithsonian Institution to perform construction management services to aid in the development and construction of the project under an indefinite delivery/indefinite quantity contract.
Finally the two of the largest minority construction firms in the country, Smoot Construction and H.J. Russell & Company, comprised a joint venture firm with lead partner Clark Construction to win the $290 million contract to build the 380,000-square-foot Museum. Both Smoot and H.J. Russell played an active role in the venture by committing surety bonding, expertise, and resources to the project in a significant fashion.
A www.Construction-Today.com blog from October 2014 said "The structure is a testament to African and African-American influence on the inside and outside. The Museum sits between the Museum of American History and the Washington Monument, but stands in refreshing contrast to them both. Its striking exterior, called the corona, is a three-tiered bronze and glass panel façade that reflects traditional African architecture."
"The primary architectural idea for the museum is the crown or corona form," Freelon Adjaye Bond says. "Reaching toward the sky, the bronze-clad corona expresses faith, hope and resiliency. Internal to the building, the corona forms a perimeter zone, which surrounds the primary galleries. Daylight enters this zone through patterned openings in the bronze cladding and through skylights. At night, the corona glows, presenting stunning views of the museum from a variety of vantage points in and around the mall."
However, the Clark/Smoot/Russell team committed to ensuring the small and minority-owned business had opportunities to participate on the project. The team committed to exceeding participation goals for Small Business participation on the project with a focus on involving Small Disadvantaged Businesses. The goals on the project were:
Small Business – 42%
Small Disadvantaged Business – 22%
Woman-Owned Small Business – 10%
HUBZone Business – 10%
Veteran-Owned Small Business – 5%
Service Disabled Veteran-owned Small Business – 5%
The construction team also set out to build the most sustainable building in the Smithsonian Museum System by aspiring to achieve LEED Gold certification.  "The new NMAAHC will stand as a demonstration of best practices in environmental design," Freelon Adjaye Bond says. "While the specific stories of persecution and struggle, resiliency and triumph will be presented in the museum's exhibits, the building itself will stand as a powerful testament to the centrality and relevance of African-American culture and history."